This form stopped accepting submissions on May 18, 2018 5:00 pm CDT.
---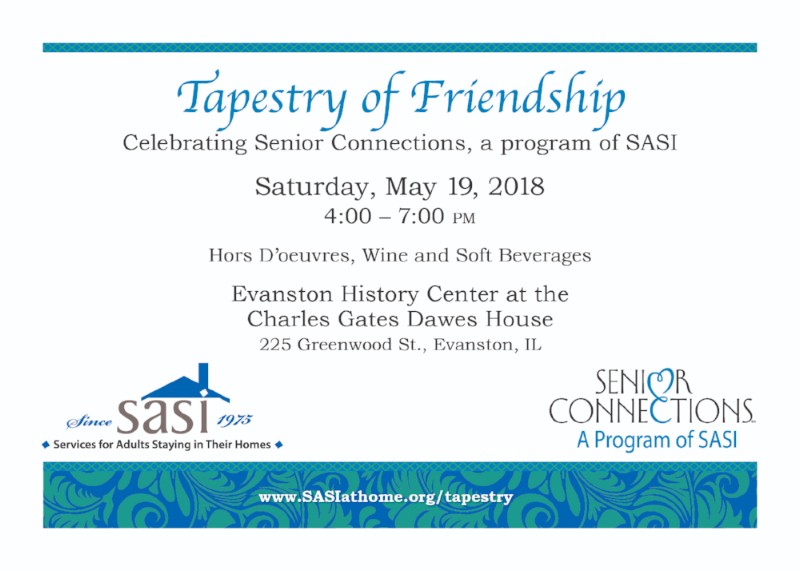 Please join us! Event reservations are $75 each and include wine, soft beverages and delicious hors d'oeuvres. 
Proceeds raised help us to offset costs of our Senior Connections program.
Look at the raffle drawings below—there's something for everyone and tickets are only $10 each or three for $20.  You may put all of your tickets towards one package or divide them as you wish. Purchase reservations and/or raffle tickets online at the link above, or call the office at 847/864-7274 and purchase over the phone, 9 am – 5 pm, M-F through May 18. 
There will also be live auctions that include tickets for the Chicago Symphony Orchestra, The Chicago Cubs, a private cruise on the Chicago River and artwork by local artist Barbara Sittler.  You must be present for the live auction so make your reservations now!
Please note: you MUST be 18 or older to purchase raffle tickets, but you don't need to be present to win.
---
This form stopped accepting submissions on May 18, 2018 5:00 pm CDT.
Think globally, drink locally with gift certificates from local brewers and lots of swag.
Estimated value $375
Must be 21 or older for this package.

All you need for a fabulous al fresco meal: wine to drink & food to grill—even the grill! Don't feel like cooking? We have that covered with certificates for Five & Dime and Siam Paragon Asian Bistro.
Estimated value $475

Get stylin' and show off your new 'do – enjoy a week's worth of fun at Evanston restaurants and catch a movie at Evanston Century Cinema. Estimated value $410

Senior Connections has expanded into Skokie & volunteers are already reporting on the wide variety of good food there. Check out their new favorites.
Estimated value $360

Get off the couch and out the door! It's easy to get motivated with this package. Raining? No excuses! We added a 1 year membership to the Levy Center Gym.
Estimated value $580

Take a mini-staycation and relax with a spa day, recommended for your physical and mental health.
Estimated value $420

What can we say? A superior collection of adult beverages for those with discerning tastes.
Estimated value $315
Must be 21 years old or older for this package.

A potpourri of offerings: coffee to stimulate creativity; art supplies to inspire; and fashion to wear at your gallery opening.
Estimated value $315
This form stopped accepting submissions on May 18, 2018 5:00 pm CDT.
** Specific contents of Raffle Drawing are subject to change without prior notice—substitutions will be made at the discretion of SASI and will be of equal or greater monetary value. 
Approved by the City of Evanston.